All visitors to CIWW must read the below guidance prior to arrival
To see the changes we've made to our site to adapt to COVID-19, please see our video here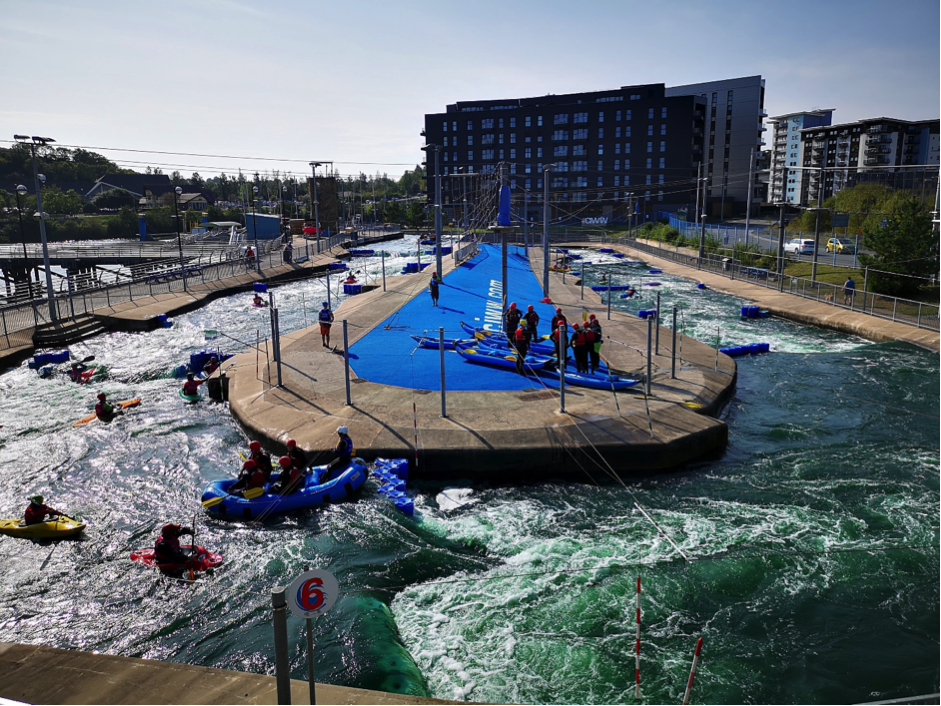 We look forward to seeing you, if:
You do not currently have symptoms of COVID-19 (new persistent dry cough, fever, loss of taste or smell)
You are not currently required to self-isolate due to either testing positive for COVID-19 or in line with current government guidance.
General Advice www.gov.uk/coronavirus
We can all help control the virus if we all stay alert. This means you must
wash your hands regularly
follow all current government guidance regarding self isolation, testing and social distancing.
Cardiff International White Water is open for pre-booked activities.
We have taken all necessary steps to be open responsibly, and have changed some of our processes to facilitate this. Please take some time to read the below to see how things have changed:
How have we adapted?
New, much more rigorous procedures have been put in place so that we can all get back on the water safely:
Communication and booking

All bookings must be paid for in advance by online, including Park & Play! No drop in customers and please do not visit the centre to make you booking or to make enquiries. If you have any queries or would like to chat to anyone, please give us a call on 029 2082 9970. CIWW is now cashless!
Sanitiser
We are providing hand sanitiser around the facility and at the start and at the end of the session, we also encourage you to bring your own.
Arriving prepared

We ask all customers to arrive kitted up 'PADDLE READY' wherever possible (i.e with your swimwear on, underneath your clothes that you arrive in, ready to change into wetsuits etc). For flat water activities wearing sportswear is great if the weather is fine. If not, we strongly recommend bringing your own wind/waterproof jacket and/or wetsuit if you have one.
For white water activities we will issue wetsuits, if you have your own please wear it (needs to have long sleeves and be ankle length).
Please make sure you complete your online disclaimer and question pack, a minimum of 72 hours before the date of your booking. This will be via a link email to you, from our online bookings platform, Eola. 
Increased washing

Wetsuits are soaked in Milton Sterilising Fluid after each use. Soaking has been increased to 15 minutes, followed by rinsing in fresh water.
Staggering arrival times

We have structured session times due to the limiting of numbers on our site and are staggering arrivals to limit the number of people in one place, to prevent breaking the social distancing rule.
Equipment cleaning

We are scrubbing all paddles and craft with cleaning solution between uses, with particular attention to the main touch points. 
Social distancing

Our activities are perfect for socially distancing but we've made a few changes to help with keeping our distance. If you need a hand whilst out on a session, we have plenty of tips and tricks to limit the risk of getting too close. We'll always make sure you're paddling in safe conditions, and if you need a bit of help we'll use a towline to pull you to a safe spot. With great demonstrations and explanations, we don't see the need to break current social disrancing guidance.
Access
We have a designated route from queuing outside, through our bookings area and outside to take part in the activities.
Our toilets are open to customers who are taking part in activities; however, we operate a strict one in one out system. We are taking care to avoid contact between staff and customers when kitting up and moving equipment. We ask you that your kit is stored in your vehicles in the adjacent car park, where possible.