What a weekend! The course calendar really kicked off this weekend. The courses running this weekend included a 3 day BCU level one raft guide, not only was the course successful but Rich Axon has passed his level 4 raft guide qualification (well done Rich). Rich has been guiding at CIWW since 2010 as well as some famous venues around the world. Rich is also a partner in heli Raft Company in New Zealand www.ecorafting.co.nz

REC first aid courses are always popular at CIWW and this weekend was no exception. The courses are very particle and are perfect for those who work or play outdoors.

With a batch of Level 1 courses coming up, we were completing some pre requisites with a full BCU Foundation Safety and Rescue course for those preparing to become coaches. It was great to see local clubs Maesteg www.maestegcanoeclub.org and Dragon Paddlers http://dragonpaddlers.com taking part.
Off and on site we were also running a BCU White Water Safety and Rescue for Battersea Canoe Club http://www.batterseacc.org
Another great course making the most of the mild weather and excellent venues close to CIWW.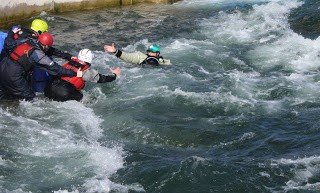 As a BCU centre of excellence we pride ourselves on the delivery of courses. With so many quality clubs in the area we do supply courses to some. This weekend Cardiff Canoe Club www.cardiffcanoeclub.co.uk has chosen CIWW to be their preferred course provider. With discounts, mentoring and access available we are really excited about working together. If clubs are interested in the arrangement please get in touch.
Wow, what a weekend. Hope you enjoyed the round up, see you on the water.
For all BCU courses and CIWW skills courses contact 02920829970