Buy Cardiff International White Water Rafting Gift Vouchers Online
Trying to think of an original and exciting gift for the friend or partner who has everything? Maybe you want to treat the family to an exhilarating gift you can both enjoy together, after so long stuck indoors? Whatever occasion you are looking to make memorable, Cardiff International White Water Rafting Gift Vouchers will fast track you into everyone's good books!
Choose from a range of fantastic activities in Cardiff, suitable for all abilities and pockets! Suitable for ages 6 plus*, the Cardiff International White Water Rafting vouchers make an ideal birthday gift, wedding present experience, retirement gift, anniversary gift or thank you!
Why not choose their favourite activity? Or if you're not sure, gift a specified amount that can be used on their Cardiff International White Water activity of choice.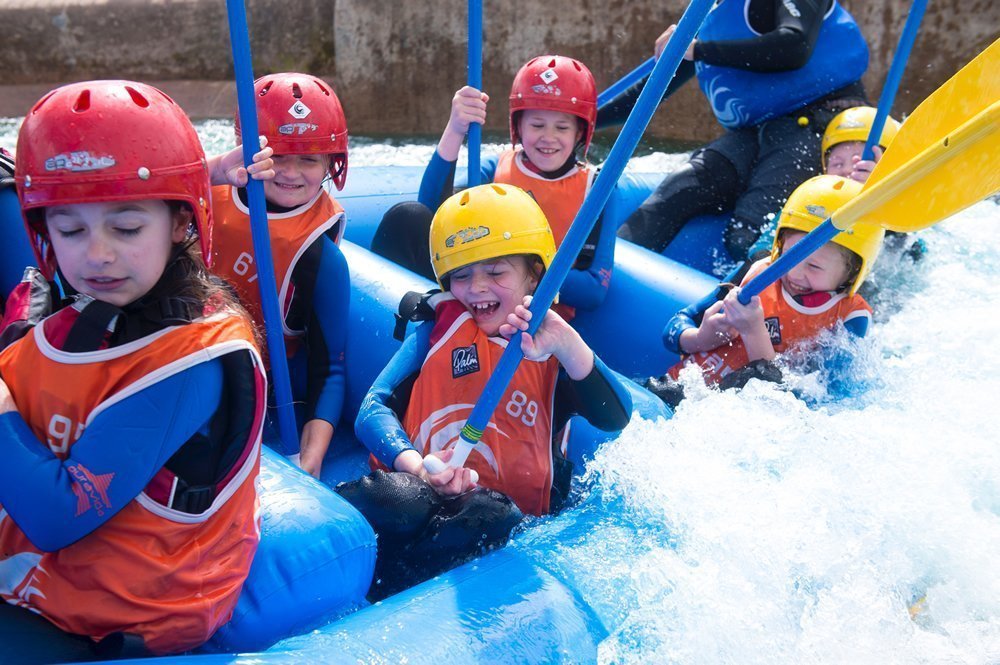 Important Information
Delivery: Our gift vouchers are automatically presented as virtual vouchers and will be sent directly to your inbox (or the inbox of the email address you provide), attached to your confimation email. 
Please note:  Once payment has been made, we offer no refunds for Gift Vouchers. Vouchers are valid for 12 months from the date of your purchase. The activity date must be within the 12 month period and is subject to availability. Activities should be booked n advance online. Once booked, the session is non-refundable and non-transferrable to a different date. 
Vouchers Purchase before 21st April 2021: On April 21, 2021 CIWW transitioned to Eola - our new Web Bookings Partner. To make bookings with your vouchers for activities purchase before 21st April 2021 - please call us on 029 2082 9970 or drop us an email on info@ciww.com
Why choose a CIWW gift voucher?
The reasons to choose a CIWW gift voucher for the next occasion are numerous. As the only white water course in South Wales, we can offer your friend, family and loved ones a unique experience.
The activity packages are the prefect bundle of unforgettable memories and joy which no store-bought present can compare to. And what's even better, they are just as easy to buy last minute as a scarf or a tie!
Our family activity gift vouchers are a fantastic way to give your children an experience that they will remember instead of a toy that would soon be forgotten. At CIWW, we offer thrilling adventures for kids as young as 6 years.
Activity gift vouchers
Perfect for the times when you want to treat someone to a few hours of excitement, but you don't want to decide on an activity, our monetary gift vouchers give you the flexibility you need. They can go from £10 up to £100, and are redeemable against any CIWW activity, so the special people in your life can choose their favourite adventure.
If you want to treat your friends or family to a unique experience, the CIWW white water rafting course is the perfect gift. It's sociable, exhilarating, and you can fit as many as 6 people in a raft, so no one is left out!
For an all-seasons adventure, look to our air trail. A CIWW high ropes gift voucher challenges your friends or young ones to take on a trail of obstacles towering above the white water, releasing their inner monkey.
Help your significant other or that cousin who is really into surfing prepare for summer with a ride on our Indoor Wave. The surf machine is suitable for complete beginners, as well as pros, and gives your loved ones a chance to jump on the bodyboard without leaving the city.
Another unique experience that's great fun for both children and adults is our family rafting adventure. With a family rafting gift voucher, you can treat your entire household to an exciting day out on the chilled low lever rapids where the thrill of rafting meets kid-friendly fun.
If you are unsure which activity to buy a gift voucher for, you are also able to buy a credit voucher for any amount. This can then be redeemed against any activity at the centre (subject to availability). To do this just click on any Book Now button.