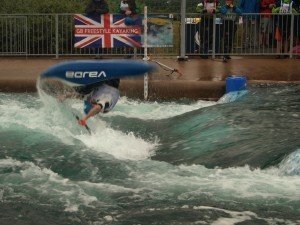 GB Freestyle/ Canoe Kayak store Jam @ CIWW.
The weather gods weren't quite with us this year but some tents and a great atmosphere still made for a fantastic event.
The Jam was held at "Camera" feature on 10c with 90 minutes of practice for people to get used to the spot.
Lee Parry and the GB team ran a smooth transition from Jam to Jam which left people plenty of time to pull of some hugely impressive skills.
The introduction of the largest loop competition for the last 3 minutes of each Jam was hugely successful and gave regular whoops and cheers from the assembled throng watching the event.
Local riders proved they had been training hard and with home feature advantage did very well in the overall scheme of things as you can see from the results below.
All in all a great event and if you haven't been involved keep an eye on the "GB Freestyle Kayaking" Facebook and "CIWW Freestylers" Facebook for the next event and training opportunities. Come and get involved categories for all novices to elite in all age groups.
JUNIOR WOMEN  JUNIOR MEN 
Expert  Novice 
Emma Witherford 410 Max Hughes 180
Sophie Mc Peak 370 Matt Stephenson 130
Heidi Walsh 0 Chris Cartwright 30
  Open 
SENIOR MEN  James cooper 850
Novice  Iwan Lewis 670
Hywell Davies 320 Joe Foster 300
Keith Hughesman 60 Expert 
Open  Jake Norman 1950
Talc 775 Charlie Brackpool 1350
John Russell 720 Sam Wilson 1150
Hugh Graham 450 Hugo Scott 790
Sam Valman 450 Harry Price 530
Rob Haley 420
Tyler Baldwin 330
Andrew Gibbs 285
Lee Parry 240
Nick Reiss 180
Chris Lowe 80
Elite 
Rob Crowe 2800
Ben coulton 340