PaddleFest 2018 arrives at CIWW, Cardiff Bay on 6 May!
Get set for a action-packed early May Bank Holiday when PaddleFest returns to CIWW for 2018. The ultimate family-friendly event for those who love the water, a bit of action, a burger or a bop in the sunshine*!  Our pumps will be on a range of flows throughout the day, so you can enjoy a range of activities suitable from age 6.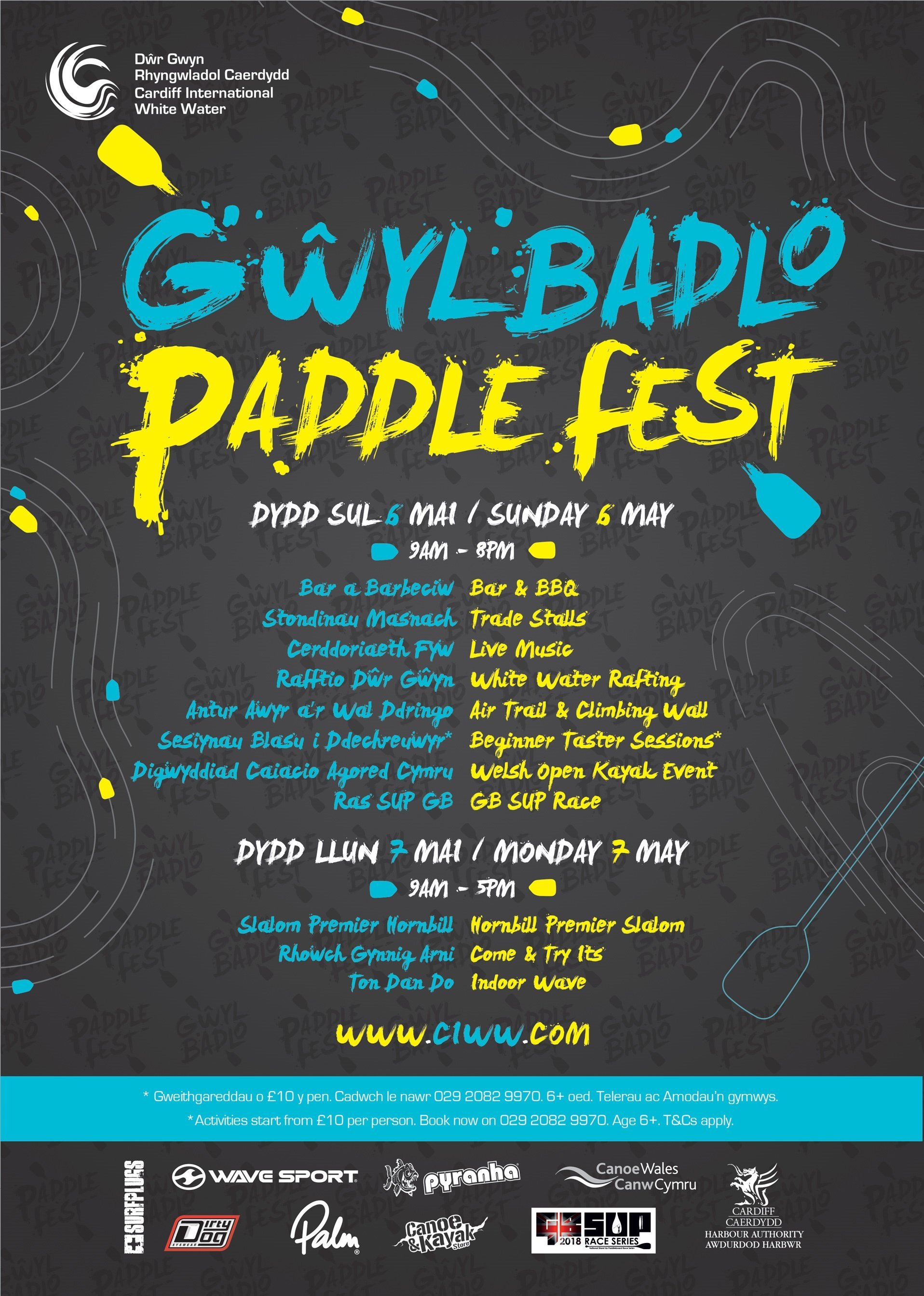 Free entry
Yes, it's all free between 9am - 6pm! It's not often you come across a free bank holiday event, so make sure you book up any event you want to take part in, as places are limited. Call CIWW on 02920 829970 or email info@ciww.com to pre-book everything from 'come and try it sessions', white water rafting sessions, indoor wave, air trail and climbing wall.
All Day BBQ
Our barbie will be fired and raring to go from the second the doors open, serving breakfast, burgers and hot dogs all day. Our balcony cafe offers a birds eye view of the white water course, and offers a range of hot and cold snacks, great coffee and cake. So grab your seat early!
Live music
The background tunes to spur on the action will be provided by a host of great rock bands showcasing their talent. Music is great - but live music is better! Chill out between activities and watch the fantastic live music on offer.
Trade stands
We've teamed up with some of white water's leading brand to bring you stacks of great products and exclusive deals that will only be available on the day. All trade stands will be manned with pros on-hand to offer advice and fitting info, as well as answer any questions you have - so come on down and browse the stalls.
If you know your stuff, a newbie or just want to get a taste for the waves, then CIWW's Flowrider Indoor Wave machine offers the perfect challenge to take part in and liven up your day! Offering you the chance to perfect your technique and with staff alongside you to offer hints and tips, this state of the art machine is located next to a viewing area for you to show off to friends and family! Priced at £22.50 for kids between 6 -16 yrs, and £35.00 per adult, CIWW are taking advanced bookings for PaddleFest so please call 02920 829970 to reserve your slot, as places are limited.
Competitions & Races
GB SUP Race
The 2018 National Stand Up Paddleboard Short Course Race Season is back for it's 8th year. This epic race has something for everyone from first time racer to international pro.
3rd Welsh Open Freestyle & Boater X
Live music will entertain you as you watch some of the best freestyle paddlers (imagine skateboarding tricks but in kayak on water) in the UK come and compete for the title of 'Welsh Freestyle Open Champion' from 3.30pm.
The Boater X competition (like skier cross in the Olympics but on water with kayaks) will also take place on the course. So come along and be inspired!
Hornbill Premier Slalom
Canoeists will be battling it out at the Hornbill Premier Slalom on the CIWW course.
Parking
Free parking is available in a large car park next to the CIWW. Additional parking can found behind the ice rink and swimming pool.
So, why not make a weekend of it?!
Only 25 minutes away from the surf, grab you kids and your kit and make a bank holiday weekend of it! With plenty of places to stay near Cardiff, get yourself a base to explore the coast while you find yourself in beautiful South Wales!
*Weather cannot be guaranteed!