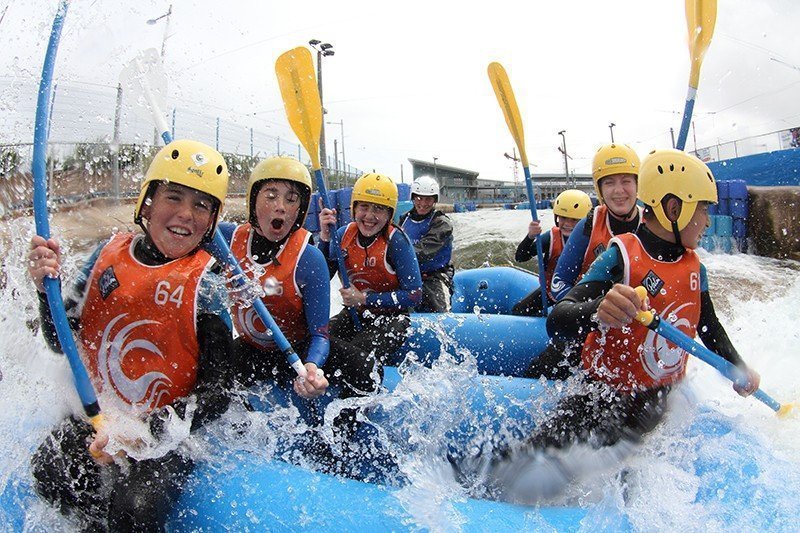 At Cardiff International White Water we offer a special rafting session for families. This session is incredibly popular with families as it is an alternative activity that many have not tried before.
If you think you have tried all the activities in your area to keep your children entertained, think again, as rafting is the perfect way to spend a morning or afternoon with your nearest and dearest.
If you still need persuading that a fun-filled white water course is suitable for your family, here are some more reasons why we continue to see families on our rafting course.
Great way to bond as a family
Rafting is a team-building activity so doing this as a family is a great way to bond and improve your relationship. During our family rafting sessions we lower the water level and speed of the rapids, so that everyone can enjoy the waves. This means that children aged 6+ can join in and experience something new. We also allow six people in a raft so that all the family can enjoy the session together.
The session is cost effective
We understand that finding an activity which is suitable for all members of your family and isn't expensive is difficult, so our family rafting is very cost effective. It costs £25 per person and lasts for approximately two hours, meaning that you receive a lot of entertainment for your money.
It is available in school holidays
The school holidays provide the perfect opportunity for you to spend some quality time with your children, so we have made sure our family rafting is available during this time. Family rafting is also open during Wednesday evenings and Sunday mornings so that you can find a time that suits you.
You'll want to keep coming back for more!
Once you have experienced family rafting, you will definitely want to come back for more. We regularly see returning families as they find that this adrenaline-filled activity is a great way to keep their children (and themselves!) entertained.
To find out more about family rafting please contact Cardiff International White Water today and we can book you in for the next available session.