It's Not All White Water at Cardiff International White Water Running so many paddle sports, including white water rafting, canoeing, kayaking, and duckies both on flat and white water, SUP obviously also plays are large part in Cardiff International White Water's DNA. On opening in March 2010 the purpose built paddle sport centre caters for all ages, all abilities and all those who want to try a paddle sport for the first time or develop their skills with some of the best paddle sport coaches in the UK. Not long after the opening in 2010 and a visit from Steve and Mandy West, SUP in Cardiff was born.  It was no coincidence that three members of the staff team working for CIWW had several years SUP experience and were the driving force behind its development.  With their passion and drive, SUP became quickly established in all areas of centres courses.  SUP was and is introduced to new and existing guests at every opportunity.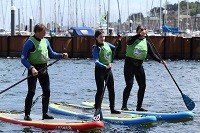 CIWW is perfectly situated on the river Ely, a sheltered river with marina developments along one bank, stretching in one direction into farmland and the other into Cardiff Bay.  Cardiff Bay is a 200-hectare lake and provides access to the River Taff.  The river Taff is easily accessible and provides a unique paddle into the heart of Europe's most popular cities.  A paddle in Cardiff is not complete unless you have paddled underneath the world's greatest rugby pitch, the Millennium Stadium. A hidden gem, well not so hidden but less travelled is the journey on the river Taff from its upper reaches down through the south Wales valleys, through the cities gardens, castle, stadium and then reaching Cardiff Bay.  Introduction to SUP courses run on a regular basis setting a foundation of skills, safety and confidence for paddlers to take their first strokes on their own through a cost effective hire programme.  Many paddlers join the centres expanding community of mixed ability paddlers who paddle with Pura Vida Boardriders Club on Wednesday and Friday evenings year round.  The group paddles are great fun and as serious as you want to make them, a cruise or put some power down with the over 30's fitness.  Whatever your experience it's easy going and great fun. However, the grass roots start with SUP being introduced to all guests who join us for paddle sports programmes, which encompass a range of disciplines.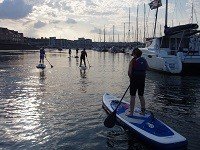 It's this opportunity that we often see guests seeking their next SUP adventure and craving the chance to get back on a board, paddle in hand. As an inclusive centre, working with several local special schools, SUP has become the staple activity.  Whilst it may have produced one of the steepest learning curves for coaches and paddlers, it has become the most popular and sought after activities.  With such a skilled, visionary coaches, Dan Willmore and Paul Thomas are breaking un trodden ground in the coaching SUP to groups and individuals who require a particular approach.  The coaching team at CIWW including Water Skills Academy and BCU coach educators is in demand following any course. This Summer's bestseller has been our Ladies Only evening sessions.  A structured four week programme with low student to coach ratio has been so popular we have added 3 more courses, on demand already this summer.  Whilst our taster sessions are great, CIWW enjoy the opportunity of longer courses to allow development of individual paddlers.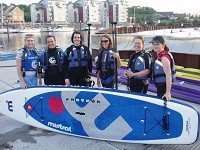 CIWW holds its White Water Fest every September (6th September 14), a great chance to demo a range of boards and paddles, live music, bar b q and perhaps chance a fun SUP race.  Further details can be found on CIWW's Facebook and website.  Hang on; it's a white water with no mention of White Water SUP?  The course its self pumps various levels of flow rate, its narrow, with boils and challenging eddies.  We have tried on a few occasions however its not particulary suitable especially during public park and play sessions and concrete board eating walls.  However, with the skill developed through years of white water coaching, safety and expeditions, including SUP a new approach to white water Sup is being created.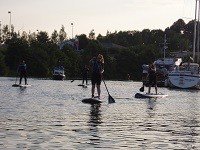 CIWW as a Water Skills Academy centre of Excellence delivers white water safety courses, moving water and white water SUP courses. So, you want to paddle in Cardiff?
 Have board will travel.  CIWW is open 7 days a week, with four late nights depending on the time of year.  Check our opening times, pop into reception, sign a form, buy a membership card (£5 one off fee), pay for launch and get out there.  The staff will advise you on which way to paddle whether it be the Ely Paddle Trail or the Bay.  The launch fee includes parking, showers and changing.
No paddle, no experience? Book onto one of our intro courses run throughout the year and we will get you started.  Once you have completed the course you can then hire a board, paddle, leash and get on the water.  You will of course experience the highest level of coaching from BCU and Water Skills Academy coaches.
 Have board, paddle and want to coach?  CIWW is a centre of excellence for paddle sport coaching.  The Water Skills Academy provides coach education courses based at CIWW.  WSA are the leading SUP coach education provider with a high level of education and training for new coaches to advanced water.
 In conjunction with Canoe and Kayak Store and Pura Vida Boardriders CIWW is a Mistral, C4 and Fanatic test centre. For more information on paddling in Cardiff or beginner courses contact info@ciww.com Or