So, you think you'd like to try Stand Up Paddleboarding?
Stand Up Paddleboarding, or SUP as it's more commonly known, continues to be hugely popular, as a fun form of exercise and unique way of exploring the great outdoors. Read on to find out how to dip your toes into the wonderful world of SUP and progress in the hobby.
SUP at CIWW
Get a taste for SUP without commiting to a full course...
At Cardiff International White Water (CIWW), we offer several options when it comes to getting out on the water on a Stand Up Paddleboard. Throughout the year, we run 2-hour SUP taster sessions, which will teach you the basics of how to get afloat, turn the board, paddle forwards and essential safety pointers. Taster sessions are a perfect way to see if SUP is for you (which of course we know it will be!).  
Women's only SUP sessions
If you're a fan already or you've paddled before, then more options are available. On Wednesday evenings, we run women-only SUP sessions, during which, in a small group and under expert instruction, you'll develop your SUP skills, venturing out onto the stunning river Ely. You'll also receive coaching on paddling techniques, safety and information on where to SUP locally and further afield.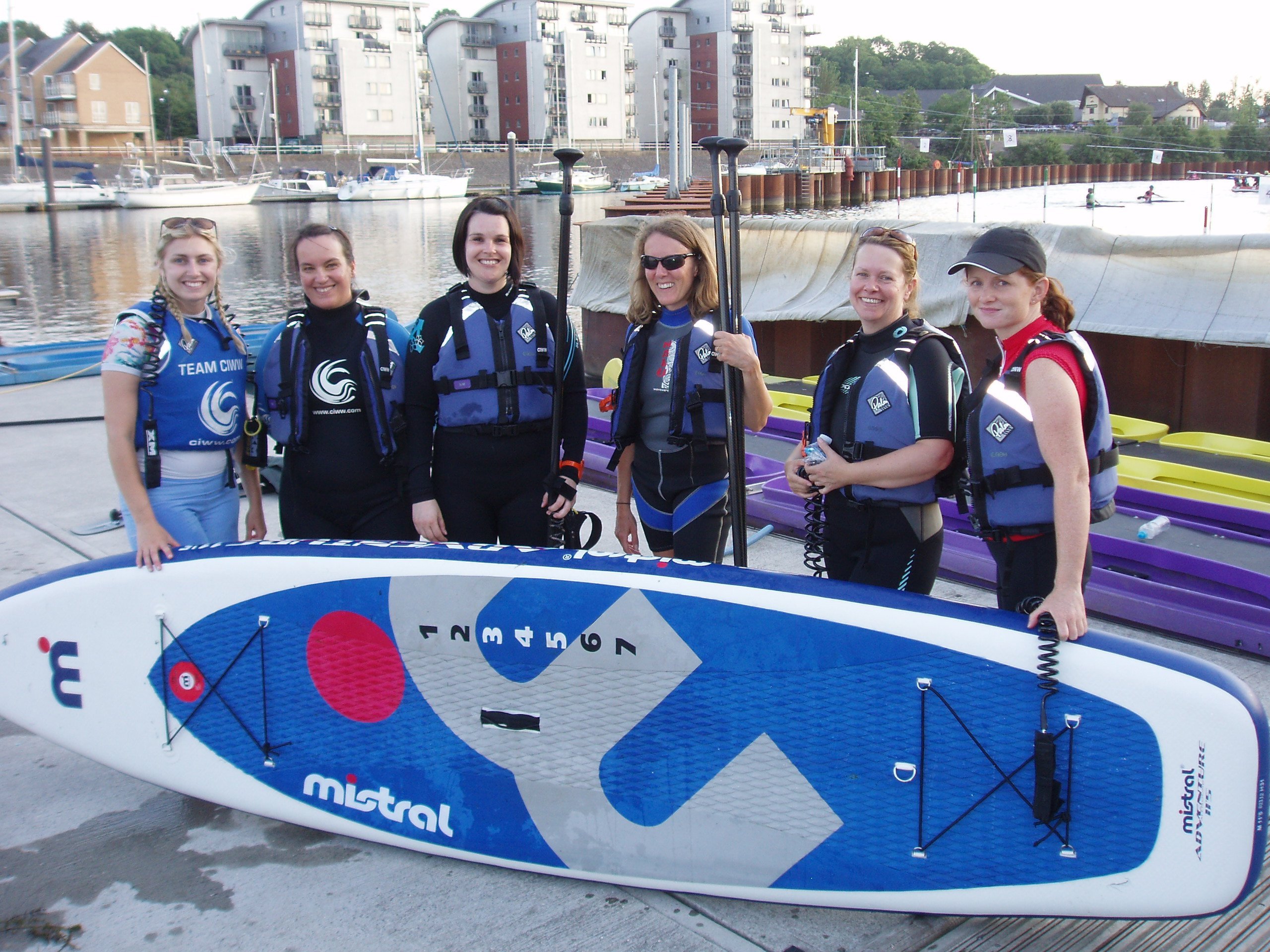 SUP for groups, stag and hen parties, and teambuilding
If you'd prefer to get together with your friends, then CIWW also caters for groups. SUP is a fantastic activity to do as part of a hen weekend!
If you're experienced and want to SUP with likeminded people, then our SUP Social was made for you. You can bring your own board or hire one from CIWW, along with all the kit you need. Before you join this relaxed group, you'll need to ensure that you have enough experience, either by completing one of our SUP courses or one elsewhere.
Weekday and weekend SUP classes in Cardiff
Whichever route you choose, we have SUP classes available throughout the week and at weekends, to get you gliding along on the water and enjoying the scenic waterways of Cardiff with other SUP enthusiasts. What's even better is that as you reach this point you can sign up for SUP trips away, invest in your own board, experiment with different boards and gain the experience required to paddle on your own.
For more information, see our dedicated Stand Up Paddleboarding page.